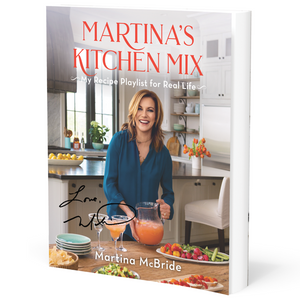 Martina McBride
Autographed Martina's Kitchen Mix Cookbook
Regular price
$ 29.99
$ 0.00
This is an autographed copy of Martina's new cookbook, Martina's Kitchen Mix: My Recipe Playlist for Real Life. 
In this gorgeously photographed cookbook, readers will find more than 100 simple and satisfying recipes filled with fresh, seasonal ingredients and downhome flavor. Martina encourages cooking "outside the lines" and shows you how to make cooking fun with creative "ad-lib" tips for recipe riffs you might consider. Mix things up in the kitchen and create your own delicious memories with her inspired recipes to feed a handful or a houseful.
Whip up Martina's family favorites like her mother-in-law Flavia's Deviled Eggs, husband John's Bacon-Wrapped Olives, or her go-to Grilled Shrimp Tacos with Chipotle Sauce and Slaw. Plan a weekend brunch menu, serving Baked French Toast with Pecan Crumble and Blackberry-Maple Syrup and Hashbrown Breakfast Casserole with Tomato Gravy. Toast friends at happy hour with her Blackberry-Lemon Gin & Tonic while enjoying Grilled Sweet Peppers with Goat Cheese and Herbs. And when it's time to celebrate with family and indulge in dessert, try Martina's Fresh Apple Cake with Homemade Caramel Sauce or No-Bake Peanut Butter-Chocolate Cookies. 
---
More from this collection